Artist Profile
Ask the Artist with Sam Pluemacher, Assistant Editor
6 minute read
The Final Cut Pro user on working on VFX-heavy shows for Netflix and Amazon Studios, prepping before projects, and using Mocha Pro and Continuum FCP.
---
Sam Pluemacher is a Berlin-based assistant & VFX editor who works on episodics and feature films. Final Cut Pro is his main NLE as it is the preferred choice of his editor Knut Hake. He has also worked in Avid Media Composer. His most recent projects include Blood Red Sky (Netflix), which is also featured as an FCP workflow story on Apple's website, One Night Off (Amazon Studios), and he's currently in production Blood & Gold (Netflix) scheduled for release in 2023.
Where are you from, and how did you get your start in the industry?
I live and work out of Berlin, Germany, which has been my hometown since I moved here at 11 years old. Initially, I studied product/industrial design and worked in graphic design for a number of years. Both my parents work in the movie industry, which paved the way to set my foot there as well. My first project was the German TV series Zarah, about a female journalist and women activist in the 70s. It was a lot of fun and I really liked the historical setting. It's a six-part series where I was the sole assistant together with editor Knut Hake for the entire series.
What are your go-to Boris FX plugins, and which effect/features do you rely on most?
Mocha Pro is the main tool I can't live without, although I hope for a native version for Final Cut Pro. (Editor's note: Mocha's tracking and masking tools are integrated into Continuum FCP as of the 2022 release.) It's great for the compositing layouts we rely heavily on during current and past projects. It's incredibly powerful for screen replacements (even with heavy handheld camera shots), set extensions, or the dozens of muzzle flashes that were integrated into Blood & Gold.
Continuum FCP is new to me, but it's excellent to do many things directly in Final Cut Pro. For a couple of scenes, we've been using BCC+Center Spot to create a dreamy (flashback) POV for two of the characters. The effect looks amazing, and the creative flexibility and masking capabilities with built-in Mocha are fun to play with. I've also been using BCC +Looks on a commercial shoot that I'm currently editing. The vast palette of different styles and looks is a blast to play with and helps find the right character for the story. For more advanced compositing, I still rely on Davinci Resolve Fusion, as the workflow between FCP & Fusion is really smooth.
What project are you most proud of and why?
It's definitely Blood Red Sky. It was my biggest project back then and a very VFX-heavy film. It was lots of extra work but really fun working with the director, editor, and Scanline VFX. We went through many iterations of the nearly 600 VFX shots. It was really amazing to see how everything falls into place.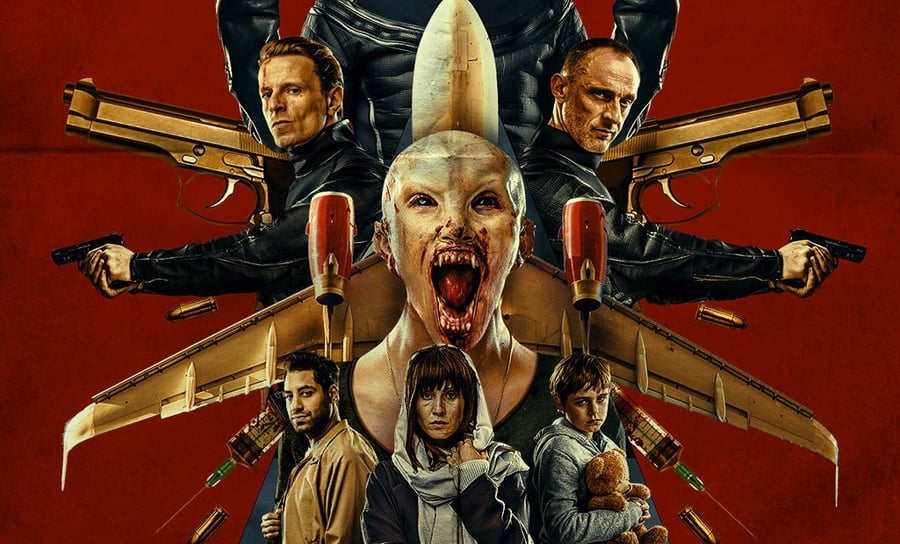 photo credit: Blood Red Sky, Netflix
How do you prep before a big project?
It usually starts with a lot of phone calls to get to know everybody from the different departments. Most importantly, the Script Supervisor, the DIT on set, and the Post Supervisor. Luckily you meet the same people from time to time, which can help a lot in setting up a smooth workflow.
Another important thing I always do is read the script so I know the story inside out. That way, my editor can trust nothing will get lost along the way. I keep a Notion database to track scenes and their current status. I also use it as a VFX database. Notion is incredibly powerful and customizable and allows for many different viewing options. It becomes kind of a digital pinboard which also looks really great.
What's a keyboard shortcut you can't live without?
There are quite a few. I customized my keyboard layout a lot to use it with my Razer Tartarus. It's a small gaming keyboard that allows me to work one-handed. I only have to leave the Razer and Trackpad for typing text which makes working a lot more relaxed. This setup, in combination with Commandpost and its scripting abilities (a really great tool that I cannot recommend enough), makes Final Cut Pro even faster.
Apart from that, Option+X to clear selected ranges is my most important shortcut in FCP.
How do you keep yourself fueled/your favorite snack when you're in an epic session?
Good coffee and fresh water get me through most situations. But always take a quick walk in between to clear your head.
Where do you turn for creative inspiration?
There are many places, but Cut/daily by Jonny Elwyn is a weekly newsletter that features really interesting topics and Art of the Cut by Steve Hullfish. The YouTube tutorials from Boris FX are also a great place to learn new things or see different approaches on how to tackle difficult shots.
What do you do when you start feeling artistic burnout?
I turn to something else on my project and pick up the problem the next day, but sometimes I am too stubborn to let it go. Usually, you're just approaching it wrong. After a good night's sleep, start again from scratch. You'll see the solution, and the shot will get even better.
What's your favorite film and/or TV series?
I have many favorites, but one film that's really stuck in my mind is the Fifth Element by Luc Besson, which I saw as a kid. I really loved the sci-fi world. It amazed me back then and still does. For a series, it's Mindhunter which is such a great art of work. The tension throughout the series is impressive.
If you could collaborate with any artist, living or dead, who would it be and why?
I guess Eddie Hamilton. I've seen so many of the movies he's edited. From an assistant editor's perspective, it must be really fun — and demanding — to work on such VFX-heavy features. I enjoy looking at the timelines he shares from time to time. It's always fascinating to see how they are put together. I only wish he would use Final Cut Pro. ; )
What career and/or life advice would you give your younger self?
Don't be afraid to ask for help or advice. Usually, everybody is really helpful and kind if you encounter a problem or don't know a specific term. And never be afraid to take on a new opportunity even if you don't feel ready.
Learn more about Continuum FCP
Download the FREE Continuum FCP Looks Filter