Case Study
Image Engine: The Emmy Award-Winning Team Behind The Book of Boba Fett
6 minute read
Carlos Conceicao, BG Prep Department Supervisor, talks rotoscoping, paint, and tracking with Silhouette and Mocha Pro.
---
Image Engine is no stranger to the world of Star Wars. The Vancouver-based visual effects team has worked on The Mandalorian since season one, The Book of Boba Fett, and most recently, Obi-Wan Kenobi. The Image Engine crew delivered 686 shots on episodes one and seven of The Book of Boba Fett, and were recognized for their efforts with an Emmy Award for Outstanding Special Visual Effects In A Season Or A Movie (2022).
We recently chatted with Carlos Conceicao, BG Prep Department Supervisor, to discuss how the team uses Silhouette and Mocha Pro in their daily workflows to tackle advanced rotoscoping and frame-by-frame paint needs.
The BG Prep team aims to deliver the highest quality roto mattes and painted plates by removing unwanted technical, safety, or crew gear from shoots. To accomplish this, Conceicao's chief responsibilities are three-fold: ensuring outstanding communication between BG Prep and every department involved on a project; working closely with the Workflow, Software Development, and Pipeline Support teams to automate repetitive tasks or tackle roadblocks; and helping each team member with individually tailored career progression.
"Nothing gives me more pleasure than seeing people succeed. Work will always be work. There are good days and very stressful days, but if you work happy, if you're constantly learning, if you feel listened to, or if you are challenged out of your comfort zone," says Conceicao. "It will never be boring, and you can certainly work in a relaxed, friendly environment no matter how tough the task is. The Book of Boba Fett was a massive collective effort from all departments represented by our VFX Supervisor, Robin Hackl (one of the founding members of Image Engine). It definitely has a special meaning for those of us in BG Prep since it was such a demanding show. We felt the responsibility of stepping up and making sure we delivered flawless content to the best of our abilities."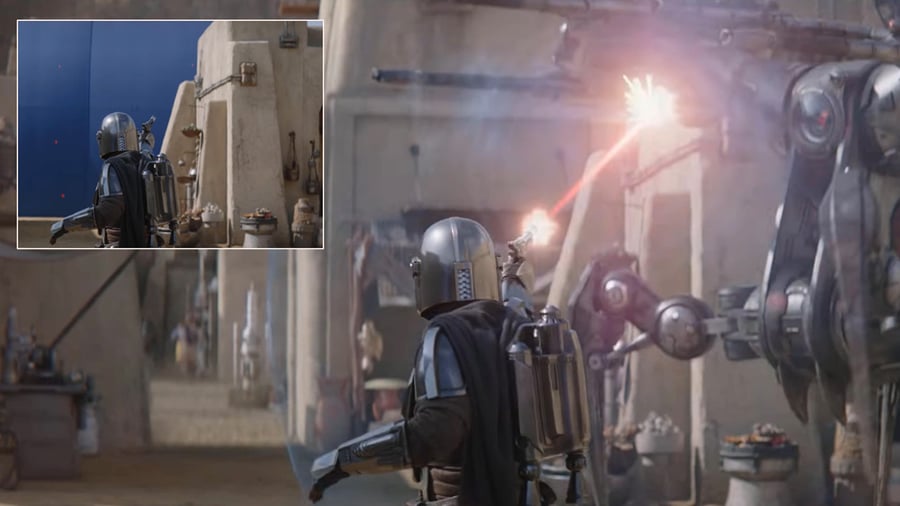 © LUCASFILM LTD & ™
Rotoscoping and Painting Through the Galaxy
At Image Engine, artists specializing in roto, paint, and prep can spend anywhere from half a day on simple shots to 20-25 days on massively complex ones. Each rotoscoping matte, regardless of whether it has been generated internally or externally, is created in Silhouette due to speed, consistency, and overall integration. On the paint side, each artist is a frame-by-frame paint specialist. They are given the freedom to choose which tool works best depending on the challenges of a specific shot, but also know exactly when Silhouette's raster paint tools can make the difference over traditional procedural tracked patches, i.e., wires or cables in front of moving characters, folding cloth, and edge work through fine hair detail.
"As I usually say, we should use the right tool for the right job. As much as other packages are fantastic for other tasks, there's no real competition available to the end-user when it comes to working in Silhouette," states Conceicao. "Mocha Pro and Mocha integration in Silhouette are the cherries on top to help us speed up the process of a difficult track. Mocha's algorithm is the hidden voodoo that any experienced rotopaint artist or compositor has in their back pocket to get the job done during adversity."
"Roto or paint shouldn't be painful. It should be accepted as a technical challenge, almost like a puzzle, that can be broken down into very simple smaller pieces that are all related to the way the footage was photographed and your understanding of depth and motion," continues Conceicao. "You should be able to work with the software and not feel like the tool is limiting your speed. I would estimate that Silhouette gets us a 50% increase on the speed and execution and a lot more if I take into account the long-term impact on an artist's moral and mental health."
Image Engine not only relies on Silhouette to execute any given roto task but also to assist with quality control. "The greatest thing about this package is the clear exposure of dedicated performance tools," notes Conceicao. "A few examples are preset setups for the clone tools, paint history, autopaint/rebuild capabilities, and the gorgeous real-time playback speed of painted frames that allow us to fix any little wobbles without having to render the final result constantly."
Training the Next Generation of Roto & Paint Jedis
Image Engine is one of the few visual effects companies in the world that invest properly in BG Prep, as many choose to outsource roto and prep work entirely. The team actively trains each individual artist regardless of expertise level. "There's always something new to learn, a technique to sharpen, or experiences to share," says Conceicao. "We've been gathering an amazing group of elite BG Prep artists that are not only dedicated to their craft but also people that love to help and inspire young talent. IE established that having a very strong internal BG Prep team contributes not only to a smoother delivery of creative content but also to the proper development of foundational skills within the company. This department is capable of creating a vast majority of BG Prep Career Specialists and also amazing Compositors and Digital Matte Painters."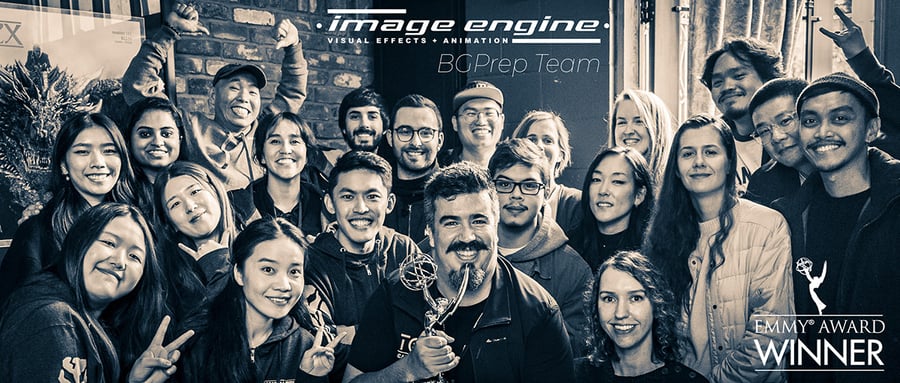 Group photo of the Image Engine BG Prep team with the Emmy Award
Conceicao adds, "As far as roto is concerned, Silhouette is the absolute foundational ground for any artist to develop their skills, not that other packages can't do the job for small little tasks, but as I've mentioned before, none will be able to deliver the same level of detail in the shortest amount of time when the complexity of the work grows exponentially."
The company also recently launched a BG Prep internship program that brings in young talent from across the globe. The interns are taught the highest standard of roto and paint techniques while also developing the soft skills essential to communicate effectively with production coordinators and show leads.
Sharing His Bounty With the Alliance
Conceicao's force continues to shine bright with his personal side project, RTC (Road to Comp) VFX Academy, which he created to give everyone access to affordable VFX training. The courses are taught by artists actively working in the industry and focus on the underlying skills necessary to succeed in BG Prep and Compositing.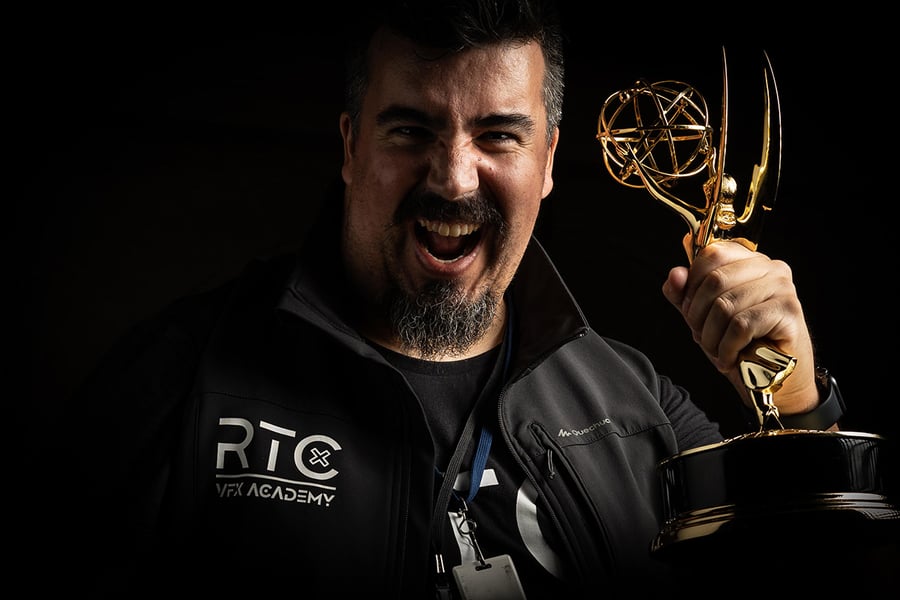 Carlos Conceicao, BG Prep Department Supervisor, Image Engine
"You often see young students who have recently graduated start a company, but they instantly feel helpless because they're inexperienced with how to actually deliver a shot," remarks Conceicao. "They got their foot in the door, but there is a gap in knowledge with many VFX schools. At RTC, we focus on producing artists that respect the process and learn the craft in a very solid and humble way. It's important to have the ambition and passion for this work."
"Silhouette and Mocha have been RTC's partners since the beginning, and for every course, we're proud to provide each student with a full license so that they can develop their skills without limitations," ends Conceicao. "It's fundamental in our curriculum to expose students to the best tools for the right moment. That is our goal."
---
Learn more about Silhouette and Mocha Pro.