Artist Profile
Inside Boris FX: Harry Frank, Director of Community
4 minute read
Get ready to feel more supported, inspired, and informed across our social channels, user groups, and events both in-person and online.
---
We're psyched to introduce you to Harry Frank, our new Director of Community! Harry is based near Portland, Oregon, and many of you may already be familiar with him.
His background includes over 25 years of creative and technical experience in audio engineering, video post-production, and motion design. He worked for the likes of Blur Studio and Blind before ultimately making the switch to the software side of things (product designer/manager for Red Giant Universe/Maxon) in search of a better work/life balance.

Harry will be leading our community engagement through social media, events, and user groups. So pop into our channels and start some convos! Follow him on Twitter.
What are you most looking forward to as our Director of Community?
Our community of VFX artists, editors, and motion graphics artists is very special. We share our ideas freely, and we help each other not only professionally, but personally. Because of that, I am honored to be in service to such a wonderful group of people. I look forward to connecting with this community, listening to their stories, hearing about their workflows, and engaging with them both virtually and in person.
What is your overall experience using Boris FX tools? What fresh perspectives are you hoping to offer the community?
Working as a product designer and product manager at Red Giant/Maxon for 12 years, I always kept my eye on new Boris FX releases, specifically Continuum and Sapphire. The product line I mostly worked on was Red Giant Universe, designing and coding most of its products for the last 4 years. Universe shares a lot in common with both Continuum and Sapphire, especially the customer base. That said, I have a lot of learning to do in the coming months to get into the specifics of the tools. I am eager to turn my learning experience into a learning experience for the community for people that also might be familiar with Boris FX tools, but not on a deep level.
In terms of the products, what I am excited about is that many of these Boris FX tools have features I had wanted in Universe for years, such as a multi-effect builder with customizable parameters. And although Universe has some great text tools, I had always wanted a more customizable text interface with kerning controls, mixing typefaces, varied type sizes, etc.
In the long term, I am looking forward to working with the product teams on new product ideas and features for upcoming releases. In the short term, I'll be connecting with the community and offering feedback to the product teams on what they might be looking for next with the Boris FX ecosystem.
What's a keyboard shortcut you can't live without?
I've used After Effects for a very long time. When I was a freelancer, it would be very common to receive projects from other animators. The indispensable shortcut I relied on was tapping "U" to see all animated properties. But even more useful is tapping it twice, which reveals all modified properties. It's a quick peek into all of the changes the animator made. I still use this when diagnosing problematic projects from customers, as sometimes modifying obscure properties can make things behave unexpectedly.
How do you keep yourself fueled/your favorite snack when you're in an epic session?
So much coffee! But it has to be good coffee. Lately, I am a fan of oat milk cappuccinos as an afternoon pick-me-up. Biscotti are often a good accompaniment.
Where do you find creative inspiration?
I like to visit stashmedia.tv and motionographer.com regularly to keep on top of the great motion design work out there. But, outside of the internet, I have a growing collection of art & design books that feature classic paintings, advertising, graffiti, album covers and lettering, and more. In Portland, there is a fantastic local bookstore called Powell's, which takes up a whole city block. I can spend a whole afternoon hanging out in the design section and perusing the art/design book section.
How do you unwind outside of work?
Being in the Portland area, I love getting out for a hike. There are so many trails, and they can be filled with waterfalls, flowers, ferns, moss, lakes, mountains, and lots of mud. There is just something about getting away from my office, my phone connection, and soaking up the outdoors that is invigorating for me.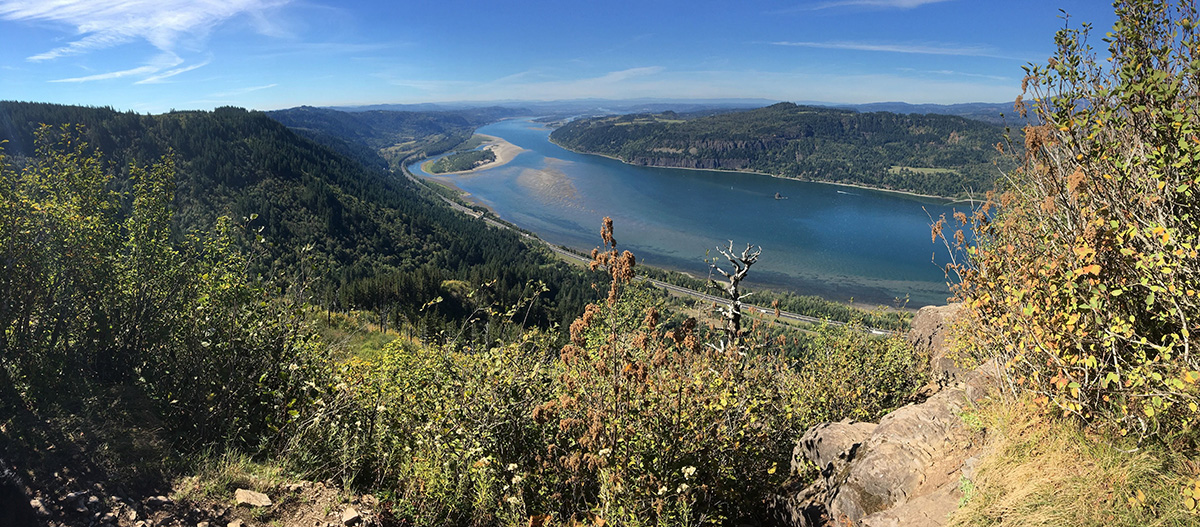 The stunning view on one of Harry's hikes
What are your favorite films and/or TV series?
It's almost impossible to pick one series! My favorites that might not be so surprising are: The Sopranos, Schitt's Creek, Stranger Things, Six Feet Under, and Breaking Bad / Better Call Saul. I'm a sucker for any Star Wars series or film, as well as just about anything 80s, especially John Hughes.
If you could collaborate with any artist, living or dead, who would it be and why?
I always think it would be fascinating to go back in time and work with an innovative artist, but using modern technology. Can you imagine the visuals one could collaborate with Jimi Hendrix to accompany his music?
As for a more traditional visual artist, I love the visual style of Yayoi Kusama, and how innovative she is across a wide range of mediums. Personally, as someone who excels at working with artists to achieve their vision, I would love the opportunity to collaborate with her and create a visual installation that uses her style.
What career and/or life advice would you give your younger self?
Get outside your comfort zone! In both my personal and professional life, this holds true. Don't be afraid to be bad at things, to look goofy, to sing poorly, to make bad paintings, or to dance like an idiot. Life is too short to care what others think. And if you wait too long to learn this, you lose out on too many life experiences.