Product News
Need 3D Camera Solving? SynthEyes to the VFX Rescue!
3 minute read
The powerful standalone 3D tracking toolset used on blockbuster movies and episodics is now part of the Boris FX product family.
---
The Boris FX crew always thrives to build upon the award-winning products you already know and love — and bring you new tools to further streamline overall post-production pipelines.
After welcoming CrumplePop's AI-driven audio plugins to the Boris FX Suite of products earlier this year, we're thrilled to announce the addition of SynthEyes! Many of our users may already be familiar with the cutting-edge 3D camera-solving and match-moving standalone application.
Artists have relied on SynthEyes for the last twenty years to tackle complex visual effects tasks on films like Black Panther, The Guardians of the Galaxy, The Curious Case of Benjamin Button, Pan's Labyrinth, and King Kong, and streaming/broadcast projects like Foundation, Stranger Things, Game of Thrones, Fringe, and Lost.
It's available as a standalone application for Windows, MAC, and Linux operating systems, with a fully supported export pipeline to your favorite compositing or 3D application. Options include Adobe After Effects, Nuke, Fusion, Blender, Flame, Maya, Houdini, and more. Prices start at $499 for a permanent license. Learn more.
Top 5 Reasons To Use It
Exceptionally fast 3D tracking for match moving, stabilization, and standard VFX tasks (set extensions, moving object and camera matching, adding 3D enhancements to actors, and complex object removals).
Effortlessly fits into your workflow with exports to 25 different 2D and 3D programs.
Automatic tracking for quick solves or go deeper solving with supervised tracking, planar tracks, AprilTags, and lidar scans. Object tracking with or without a reference mesh.
Set reconstructions with texture extraction, mesh-building, and manipulation tools.
Easy lens calibration without calibration grids gives you even better solves or set up a full lens calibration workflow for your shots in various compositing applications.
Want To Learn More?
SynthEyes includes many more advanced features. The SynthEyes website is packed with valuable information, comprehensive tutorials, and excellent product support. Prefer to watch? Visit the YouTube channel.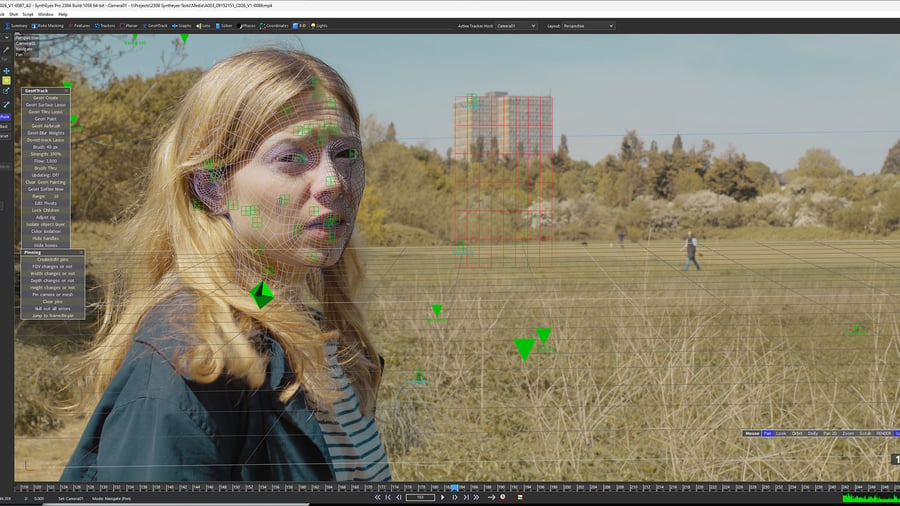 What Customers Are Saying
"Congrats on becoming an industry standard! Pretty cool!"

— JJ Abrams, Bad Robot

"I have used Syntheyes since 2005 for many high-end and award-winning shows. It is the most affordable and versatile 3D tracker I have ever worked with — central to my digital makeup and photogrammetry pipelines. Tracking pixels is the most important part of any visual effect. Syntheyes has never let me down."

— Johnathan Banta, DFX Supervisor, FuseFX

"I use Syntheyes on almost every job. It's the fastest, most accurate, and easiest-to-use 3D camera tracking solution out there. From a simple camera solve to creating geometry for projections, Syntheyes does it all.

— Andy Milkis, Lead Flame Artist and co-founder of Logik.tv
Live! Join Us on September 13th
Ben Brownlee and Dr. Russell Andersson, creator and founder of SynthEyes, team up for a Q&A and live demo highlighting top tools and techniques.
📅 Date & Time: Wednesday, September 13, at 2pm ET • 11 am PT • 6pm UTC

🎁 Giveaway! You could win a subscription to the Boris FX Suite & Mocha Pro or a license of SynthEyes.
---
Learn more about SynthEyes and download a free demo version.